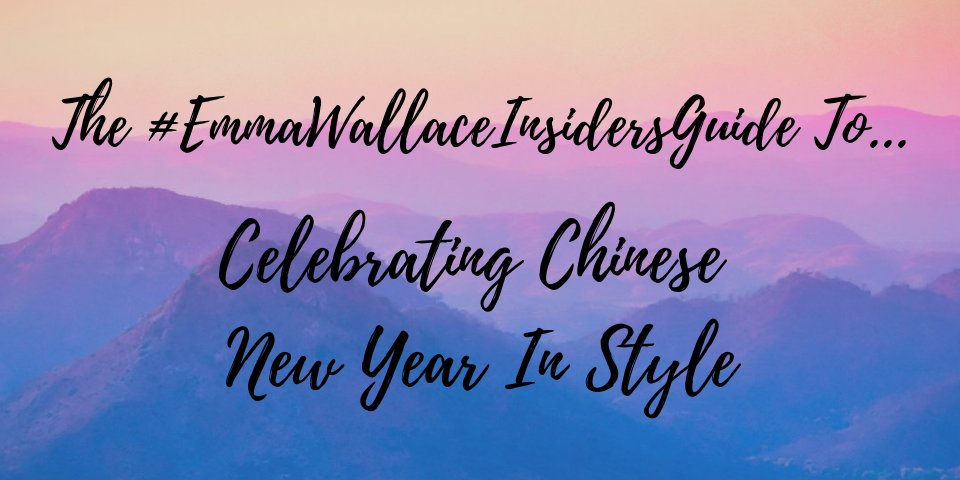 As the 'Year of the Pig' descends upon us, it's once again time to celebrate the rich festival that is Chinese New Year.
As part of our new blog series, we give you the 'Insider's Guide' on where the best dressed will be ringing in the occasion around the globe, alongside a few hidden gems that are well worth exploring! Ideal for those with itchy feet who can't wait to wander.
Here are the places we're hoping to discover as 2019 gets underway…
1. Head to a helipad in Malaysia
The Heli Lounge Bar is dubbed one of Kuala Lumpur's most scenic bars. Perched upon a helipad, this is a bar with one epic skyline view. Wait for sunset and enjoy the firework displays that mark the new Lunar year arriving. Once the sparklers have faded, get your dancing shoes on as resident DJs play everything from EDM to R&B throughout the night.
2. Have a flutter on the horses in Hong Kong
The 'Year Of The Pig' is a lucky one, so there's never been a better time to put that to the test than with a little bet on the horses. The Chinese New Year Race hosted at Sha Tin Racecourse in Hong Kong is not to be missed and is one of the most popular race days. Even if the gambling doesn't entice you, the live performances and talks will fuel your senses more than your wallet!
3. Behold the Instagrammable backdrops in Sydney
As Chinese New Year descends, the iconic Sydney Opera House gets a cultural makeover, turning red for the celebratory season. The ultimate backdrop for the 'Gram, this is a city that paints the town red in style. Want even more? The city's stunning lantern display which showcases 12 vibrant lanterns designed by Australian Chinese artists each representing one of the 12 animals in the Chinese Zodiac, is a sight that will set your social feed alight.
4. Sip in style in Mayfair, London
The luxurious Park Chinois in Mayfair will be running a series of celebrations to ring in Chinese New Year. Book a table and your meal will be an experience to remember, with live Chinese performances include lion dances and a Chinese drummer. You can even sip on 'Year of the Pig' cocktails for a truly immersive event!
5. Fill your senses with flowers in Macau
Chinese New Year is filled with tradition, and in the city of Macau it is common for people to buy fresh flowers and kumquat trees ahead of time. If you want to infuse your week with floral festivities, then the flower market at Macau's Tap Seac Square is not to be missed. Visit after 8pm at night for a truly celebratory atmosphere.
6. Be there when the sleepy town of Nuanquan wakes up!
It may have a population of less than 20,000 but come the Spring festival, this Chinese town blooms. With a firework display that has been UNESCO-listed as one of China's great examples of intangible cultural heritage, it's a sight for anyone who wants to indulge their senses with an authentic experience. Keep your eyes peeled for the da shuhua (translated as "beating tree flowers") tradition. Believed to be more than 500 years old, this jaw-dropping display involves local blacksmith's hurling ladles of molten iron at the city gates, producing a shower of sparks. An electrifying experience for those who crave something a bit different!
7. Give your mouth some good fortune in Hong Kong
Enjoy a hearty and auspicious dinner at Ho Lee Fook, a fusion diner that draws in a stylish crowd during the Lunar New Year. Enjoy cocktails in Korean-style plastic cups alongside delicious taster menus. When the restaurant's name means 'good fortune for your mouth' you know you're in for a lucky culinary treat.
Whether you want to place your bets, smell the flowers or simply kick back with a cocktail, there are so many places to discover this Chinese New Year. So, get ready to don your finery and go on adventure that will hopefully get your year off to a prosperous start…