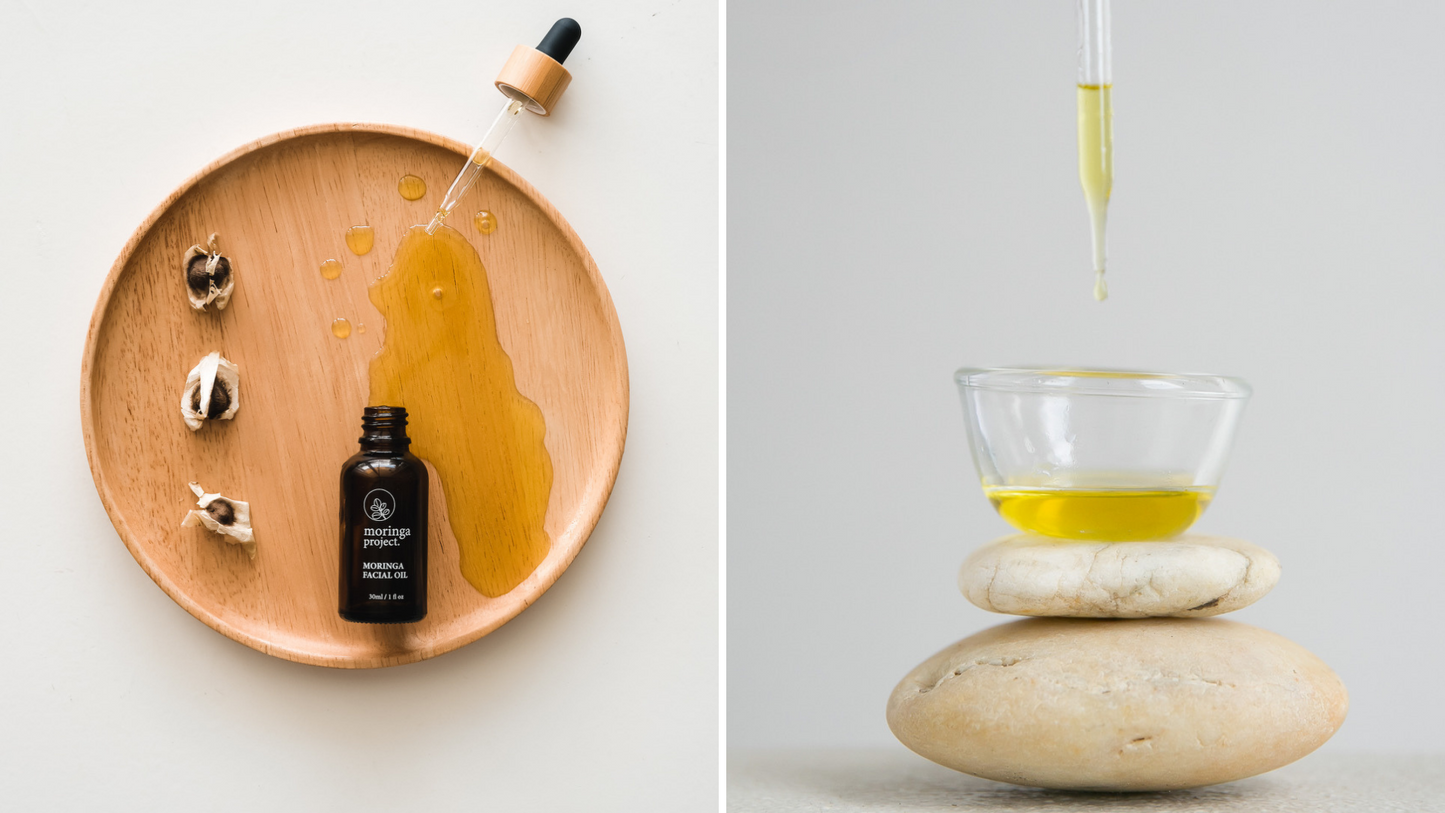 We know the #EmmaWallaceWoman doesn't just like to look good in her latest outfit, she also wants to feel good from within and that means taking care of what she eats and what she puts on her skin. We have recently discovered an all-natural plant-powered skincare ingredient called moringa oil and we can't get enough of it!
Moringa Project is a brand from Thailand with their own moringa farm that have recently launched a Moringa Facial Oil, a favourite at the Emma Wallace office. Move over argan and rosehip oil, here is the low-down on moringa…
Moringa oil is cold-pressed from the seeds of the Moringa Oleifera tree, one of the most nutrient-dense plants in the world - so it's no wonder people refer to it as the 'Miracle Tree'.
Packed with 46 antioxidants, anti-inflammatory compounds, vitamins A, C and E & amino fatty acids, moringa oil is great for supporting skin barrier health by sealing in hydration and protecting the skin from environmental damage caused by pollution and the sun. Antioxidants work to reduce dark spots, fine lines and wrinkles, making it a great anti-ageing face oil, whilst vitamin keeps skin nourished and healthy. The anti-microbial properties has a calming effect on acne and eczema and we who doesn't love a natural solution to skin problems? Easily absorbed without leaving a greasy film, it's ideal for all skin types including sensitive to oily skin.
If you are new to using oils it can be tricky knowing exactly how to incorporate them into your beauty regime, but it's worth it. Oils immediately penetrate the top layers of the skin - the epidermis - getting to work straight away on improving the lipid barrier function and improving hydration. The result is that your skin instantly feels softer and begins to glow.
Here are a few tips on how to incorporate moringa oil into your beauty routine:
As a daytime moisturiser, moringa oil keeps skin hydrated and protected:
Add a few drops to your moisturiser for added hydration.
Apply directly to your skin under makeup.
For nighttime serum it works to repair and restore the skin while you sleep:
After cleansing apply a few drops of moringa oil to your face and massage in as night treatment.
Apply directly to help aid the healing process.
Massage directly onto targeted areas to heal bites, burns, scrapes, scars and bruises.
Use on bacterial infections and inflamed skin.
Apply directly onto acnes, eczema, psoriasis.
Sun-care:
Combine with sunscreen to protect skin from external pollutants and the sun's harmful ultraviolet rays or mixed in as a soothing after-sun cream.
Nail-care:
Massage into cuticles and nails to moisturise and strengthen nails.
To read more about the amazing benefits of moringa you can head on over to there blog here.
Pick up your bottle at the Emma Wallace flagship store or DM us to get a bottle sent to you!