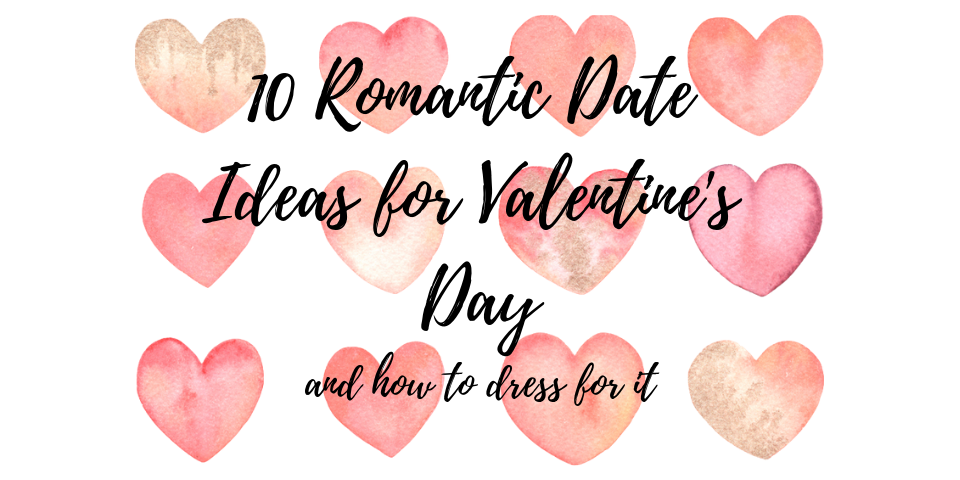 Valentine's Day is right around the corner and we are feeling the romantic vibes! Still stuck on ideas? Not to worry because we are here to give you a hand! For this week, we've put together 10 of the most romantic Valentine's Day date ideas for you lovebirds. Happy Valentine's Day!
1. Romantic Picnic at the Park
What could be cuter than a bit of classic high school romance, taking your date to a park and cracking open a bottle of bubbly to celebrate this special day?
Dress up in our girly swirly Lucienne Dress with our angelic white Lina Top for that sweet girl-next-door look.
2. A Themed Dinner and Movie Night at Home

Who said a DIY date at home couldn't be exciting? Treat your better half to a home-made menu and a rom-com to finish off that special dessert - while you're at it, why not go the extra mile and spice up your evening with some handmade heart-shaped confetti?
Wear something snug and comfortable for that cozy night in. Here we have paired our vibrant Mai Trousers with our chic white Cinder Top for a relaxed dinner at home.
3. Relaxing Spa Day
Go for that stress-free aromatherapy you've always wanted to go with your boo. We promise it will be worth it. Switch off from the outside world, it's just you and your partner.
After a relaxing spa, you might want to wear something flowy and loose and our Thien Dress is perfect for just that.
4. Sign Up for Cooking/Baking Class
If you are the crafty type, there's nothing that brings out intimacy more than competing against your other half in a cooking class, where you can truly indulge yourselves in a night filled with recipes and romance. Score each other out of 10, and let's see who's the better chef by the end of the night!
When going for a cooking class, wear something dark to conceal any possible stains. We have here our Cecille Dress for that romantic, yet dirtproof look.
5. Treat yourself to a Big Meal you would never go for

Have you yet to find a reason to splurge on that Michelin-starred restaurant? Well Valentine's Day is your perfect excuse. Enjoy that 8-course tasting menu in our flirty Thanh Skirt & sexy cut-out Elicia Top.
6. Wine Tasting Tour
Some say Valentine's Day is all about arousing the senses, so a wine tasting could put you and your 'partner in wine' just in the mood! Enjoy a tantalising session of fine wine & dine with your better half.
Why not colour-twin with your favourite Pinot Noir in our purple Lan Skirt and black Cinder Top for extra sexiness?
7. Take a Stroll on the Beach at Sunset
If you have a chance to get outdoors, nothing quite says "I love you" more than opening a bottle of wine and a box of chocolates, facing a light breeze and enjoying a breathtaking sunset on the beach.
Our romantic Mai Trousers in floral print seamlessly complements the beautiful sunset, paired with our white Adalie Top for that soft, beachside coziness.
8. Game Night

Time to break out that old Monopoly game, because it's perfect to bond over board games. But don't get too competitive before a romantic date turns into a cat fight.
Our white Hoa Dress gives an innocent look, but don't be afraid to pair it up with our black Cinder Top for a distinctive contrast and our Vinh Jacket for added warmth and comfort.
9. Chick-flick Marathon
Valentines is the perfect excuse to indulge in your guilty pleasure movies. From Mean Girls...to Clueless...then Legally Blonde!
Wear that dramatic Eugenie Skirt with the beautifully embellished black Adalie Top to match all the drama from the movies.
10. Recreate your First Date
First dates are always beautiful and memorable. Why not recreate your first date and remind yourselves how important you are to each other? Have a nostalgic Valentine's Day!
Wear that same outfit you wore! But if that's not an option, go for something classy yet effortless and flirty - like our Amalie Skirt and sexy one-shoulder Yan Top.
We sure hope this guide can be of help to you! No matter if you're single or taken, we believe you can still dress up on this day because you deserve to be treated like the beautiful person you are.