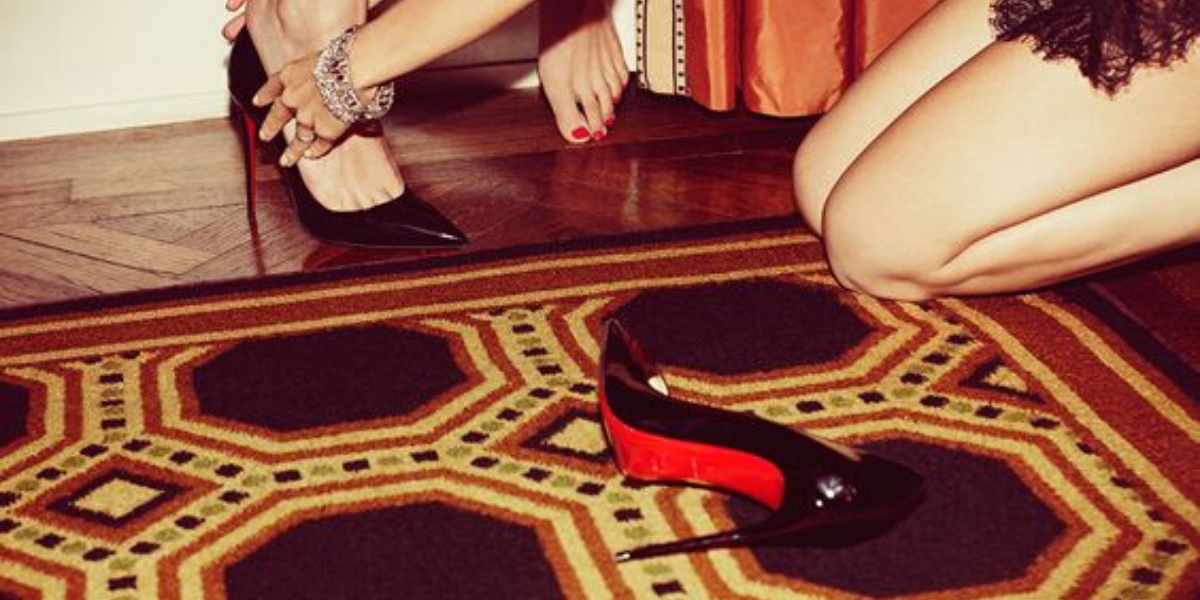 December is upon us which means Christmas is just a month away! We like to plan way ahead for our Christmas party outfits because we can't wait for it to come! This week, we would like to share our thoughts on Christmas party dressing and we will be experimenting from the most formal, to the least formal kinds of parties you might be attending. Read on to get inspired for this upcoming festive holiday.
Black-tie
Black-tie events and balls have to be the most formal of them all - when people all dress up like royalty. So why not bring in some bling for these extravagant events? One way to stand out from the crowd is to amp up the volume of your gown - but if you feel it's too princessy for your taste, try going for a more clean and streamlined silhouette with an eye-catching material like sequins. The loud yet classy silhouette maximises the impact without being overly dramatic - we call it the 'grown-up sparkle'.
Here we have a gorgeous Tiena Gown with champagne sequins, and cutout back detail which shows just the right amount of skin. Pair it with some gold accessories and you will shine from miles away. If you are more of a trouser girl, we've got you covered. Try sequined jumpsuits! This season we have different styles of sequined jumpsuits but we think our navy Luella Jumpsuit would steal the spotlight in a black-tie event. Wear it with some silver jewellery and some sparkly heels to take this look to a whole new level!
Cocktail Party
Next up are cocktail parties! They are less formal but people still like to dress up nicely for it. In this case, a cocktail dress is your best friend. Show your fun delicate side in a girly twirly dress - some fun festive prints will definitely mix things up a bit and be a great conversation starter.
Here we've chosen our romantic, asymmetric Noella Dress and our silver Ginny Dress. These dresses will definitely make you feel instantly more glamourous and flirty. Keep your accessories close to the colour palette of your dress for a more put-together and sophisticated look. You already know our love for sequined jumpsuits - we think our gold Nysa Jumpsuit is a perfect choice for a cocktail party! This outstanding number will catch all the attention in the right way - the gold sequins with a deep-v open back is appropriately sexy. Keep your accessories minimal to avoid being too over the top! You want the attention to be on you, not how blinding you are.
Clubbing
Parties and clubbing are often a popular way of celebrating the holidays without all the formality, so the outfits people go for are much less formal than black-tie or cocktail parties. Few things to consider when planning your clubbing outfit are convenience, practicality and temperature. Let's be real - it is super crowded in a club, you wouldn't want to be packed like sardines wearing a turtleneck jumper. Always go for short sleeves and lighter materials - you can leave your jacket in the cloakroom.
We are spicing things up a bit by pairing plain tops with fun bottoms. Our wide-leg sequined Katie Trouser is one of our favourites in this holiday collection - we just can't get enough of sequins for Christmas! We paired it with our white Te Top for a more balanced look - the wrap back top allows you to show that tiny waist of yours, but still remains mysterious at the front. Another choice we have here is our multicoloured Meili Skirt and black silk Jia Top. Pairing a simple little black top with a statement skirt makes you more sophisticated - even when you are in a club, you still want to be classy.
Family Dinner
The most important meal of the year - Christmas Dinner! This dinner is all about sharing and celebrating with your dear and loved ones. Everyone will eat like there is no tomorrow, so remember to wear something comfortable and make room for that little food baby.
Our silver Kitty Mini Skirt and white Cara Top combo provides just a little bit of glitz but still being family-friendly. Cover your legs up by wearing some thigh-high or knee-high boots for a PG-13 gathering. Our knitted Hui Dress gives you just the right amount of festive glamour whilst staying classy. Our Lee Mini Skirt and white turtleneck Rou Top provide you with a sweet preppy look - throw on our embellished Akiko Jacket for that extra warmth in style!
It is always good to plan ahead for your Christmas party outfits, you wouldn't want to panic at the last minute. Enjoy and celebrate this jolly holiday with the ones you love!