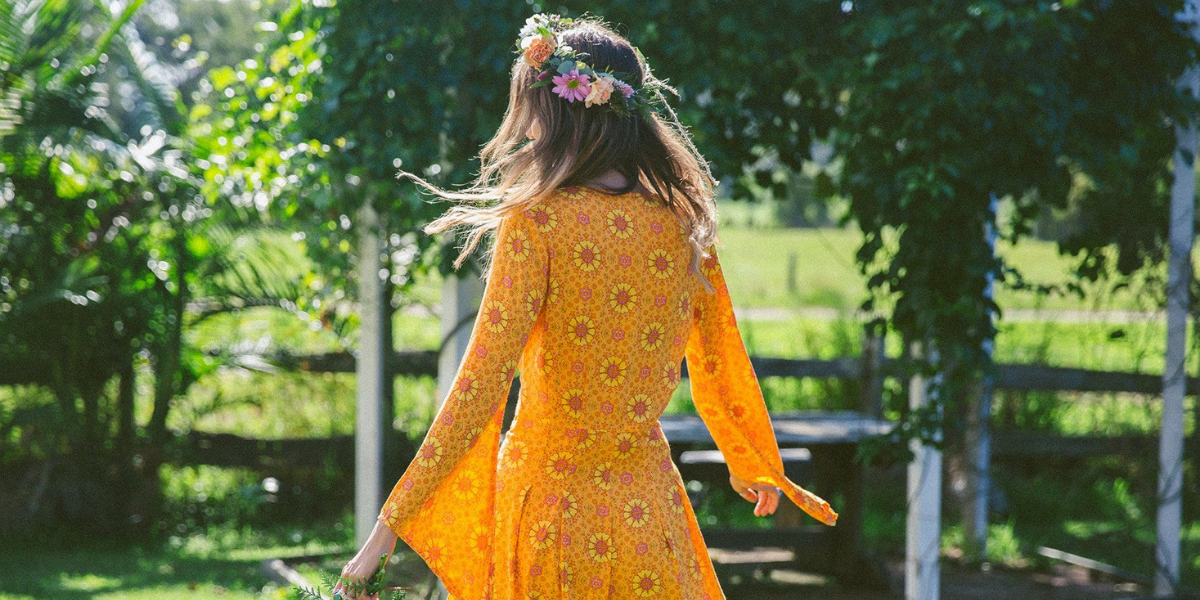 The Bohemian style is probably one of the most popular styles to be trending in the last few years - aesthetically unique, but difficult to master! Come on, admit it - all of us have tried to incorporate Boho elements into our wardrobe, but if not done properly, you run the risk of looking rather 'old-fashioned'. We're here to ease your fears and show you how it's done.
1. Print Maxi Dress
To start you off, let's dive deep into printed maxi dresses - a simple, elegant solution to your Bohemian dreams!
The Tamala Dress in our signature print, is a three-tier gypsy summer dress that is perfectly in season! Fitted at the bodice but flowy enough to keep you cool in the heat - laid-back but not in the slightest bit lazy. Strap on some sandals, a floral headband and a light straw bag, your inner flower child is ready to come out and play during the day!
Looking for a maxi dress that is equally versatile for your sunsets at the beach and summer evenings? The Briar Dress sets the perfect tone to dance away your nights with gorgeous cutwork detail - subtle yet sexy without being too revealing. The stunning print is not to be missed!
2. Embroidered Favourites
Next up we have our embroidered favourites - unique embellishments that are delicately positioned within a range of our products, fans of embroidery take your pick!
First up is our Jina Dress, sleek and elegant from the top down, with symmetrical edgy cutouts on the shoulders, and geometric embroidery adorning the hem - sure to make a statement, be it at work or on a night out! Instantly elevate our Jina Dress into a co-ord set with our Sahara Jacket - a relaxed, oversized fit with cropped sleeves and embroidered shoulderwork, perfectly complementing the Jina Dress while accentuating your shoulders.
All you fashion-lovers will no doubt be familiar with denim jackets, but fear looking like everyone else, being too plain and boring? Not to worry - look to our Jamilia Jacket. Inspired by Kimono-styled sleeves and cropped at the waist for a non-conformist boxy cut, this off-white denim jacket is like no other, especially when finished off with hand embroidery!
3. Flowy Maxi Skirt
For your endless pairings with tops or t-shirts, look no further - our range of gypsy-inspired maxi skirts will provide you with the ideal answer!
Dreamy, angelic and suitably sophisticated, our Lulu Skirt presents itself in a crinkly textured finish, with a quirky long bow tie adding that extra hint of classiness. Take it up a notch with our Mia Vest, cowgirl boots and a felt fedora for some serious Indiana Jones vibes!
Our printed Austin Skirt in turquoise can be effortlessly paired with our Neema Top, white sneakers and a leather bucket bag for casual Boho chicness.
4. Geometric Prints
It wouldn't be a proper Boho style guide without a full section dedicated to geometric prints: one of the most distinctive Boho facets! Our iteration of a scattered geometric print comes in exotically contrasting colours, and is sure to be a head-turner. You can find this across four of our selections - starting with the Tamala Dress as already introduced earlier.
Moving on, our Marni Top can be worn by itself, but we recommend pairing with our Amala Trouser for a co-ord set that is sure to stand out! Our Willa Jacket, on the other hand, is pictured here with our Jenna Top and finished with frayed denim shorts - a relaxed pairing fit for a date night at the carnival!
5. Finishing Touches: Accessories

No Boho look is complete without accessories! Although there is no definitive list of accessories that are Bohemian in themselves, we find that there are a few features across the board that can elevate your Boho game.
Earth-toned accessories such as suede fringes on sandals, boots or bags can be a subtle nod to Mother Nature's beautiful colours! Whilst we find summery accessories such as wide-brimmed hats, hairbands and gladiator sandals to go exceptionally well with floral prints, chelsea boots and thin woven leather belts work equally well when the weather gets slightly cooler.
Check out these amazing #EmmaWallaceWoman boho looks! Even if you are not ready to fully commit to the Bohemian style, try at least one element or two - we're sure you will grow to love this free-spirited flowerchild style!