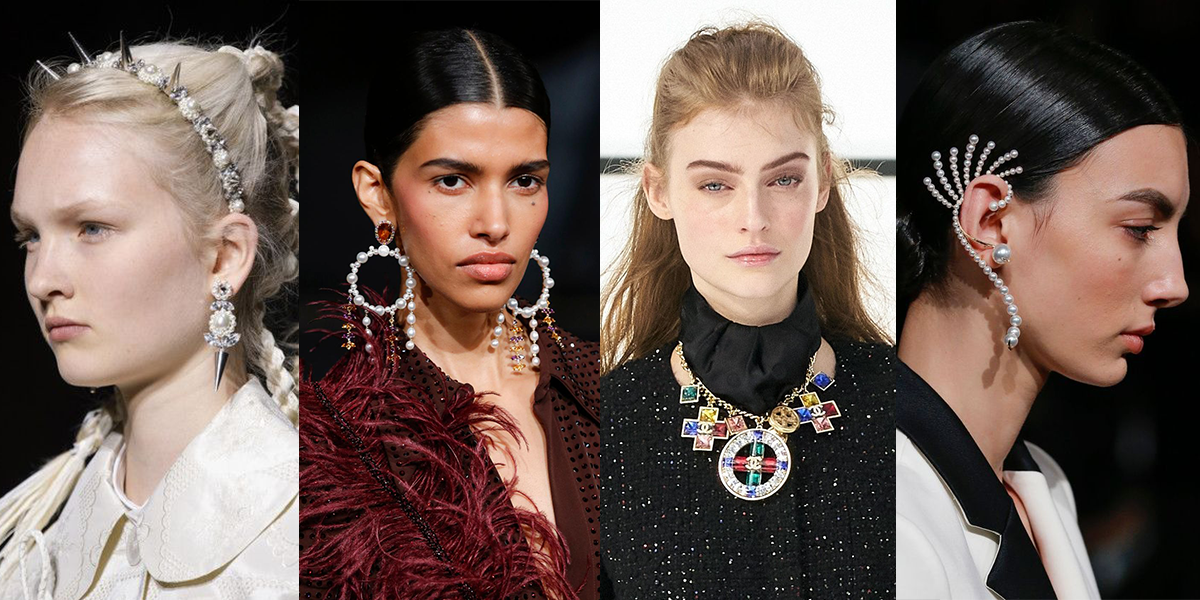 With Zoom calls now being the key way we can show off our outfits, our accessories have started to take centre stage. Jewellery is the perfect way to elevate your look and add some intrigue, so you look camera ready in an instant.
This week, we're taking some time to run down the detail trends we're loving. The perfect round up to inspire you to breathe new life into your lockdown style.
The Single Earring
This season, earrings are going solo. The one ear look dominated the Spring 2020 runways, with designers including Marc Jacobs and Tibi all sending their models out with a single piercing ready to make a bold solo statement. The key to the look? Choose a piece that has true impact and will stand out on its own.
Get the look with the Astrid & Miyu - Maiochiru 2 Single Earring in silver or gold
Pearls But Not Preppy
A huge hit on the SS20 catwalks, the likes of Jason Wu and Tory Birch showcased these sea gems in every form – from single drop earrings to layered necklaces, For Fall, pearls continued to rule the runways with Chanel and Koché reimagining this jewellery staple. Whilst pearls can conjure up thoughts of buttoned up blouses and a prim attitude, for this season, they're shedding that feel for an anti-establishment take on a classic. The perfect details that can show you as both the lady and the vamp!
Get the look with the Astrid & Miyu Peal Large Hoop Earrings and the Astrid & Miyu Pearl Shell Toggle Necklace
Inject Some Colour
Gold and silver will always be our go-to, but this season designers including Marc Jacobs and Brandon Maxwell added an explosion of colour to their jewelled touches. From florals to beaded pieces, gemstones and clashing shades, it was all about having some fun with your accessories. In this rather turbulent time, channelling our inner child and injecting some brightness into our details is the perfect way to boost your mood.
Get the look with the Astrid & Miyu - Mystic Turquoise Jewelled Huggies and the Astrid & Miyu Rainbow Ear Cuff  
Perfect Protection
For Fall 2020 it was all about using jewellery as a protective measure in times of trouble – perhaps it was an omen! Hearts, crosses, and rosary beads were seen at the likes of Chanel, Gucci and Vivienne Westwood, where Andreas Kronthaler even used necklaces of garlic for an avant garde take on the trend. Whilst masks may be the accessory of choice for now, this trend is perfect for those of us who want to nod to mystical and religious motifs for comfort.
Get the look with the Astrid & Miyu Mystic Cross Necklace and Charm Hoops combo 
Go Big & Go Home
Give your understated dainty earrings a break and invest in a pair that makes a statement this season. Oversized styles reigned supreme for spring with the likes of Carolina Herrera and Balenciaga showcasing hoops with serious impact. When it comes to this trend, it is all about standing out and not blending in – ideal when you're on that group call and want your video to shine.
Get the look with the Astrid & Miyu Saturn Earrings
Now you know the trends, what are you waiting for? Step up your accessories game and get ready to have all eyes on you…digitally of course.