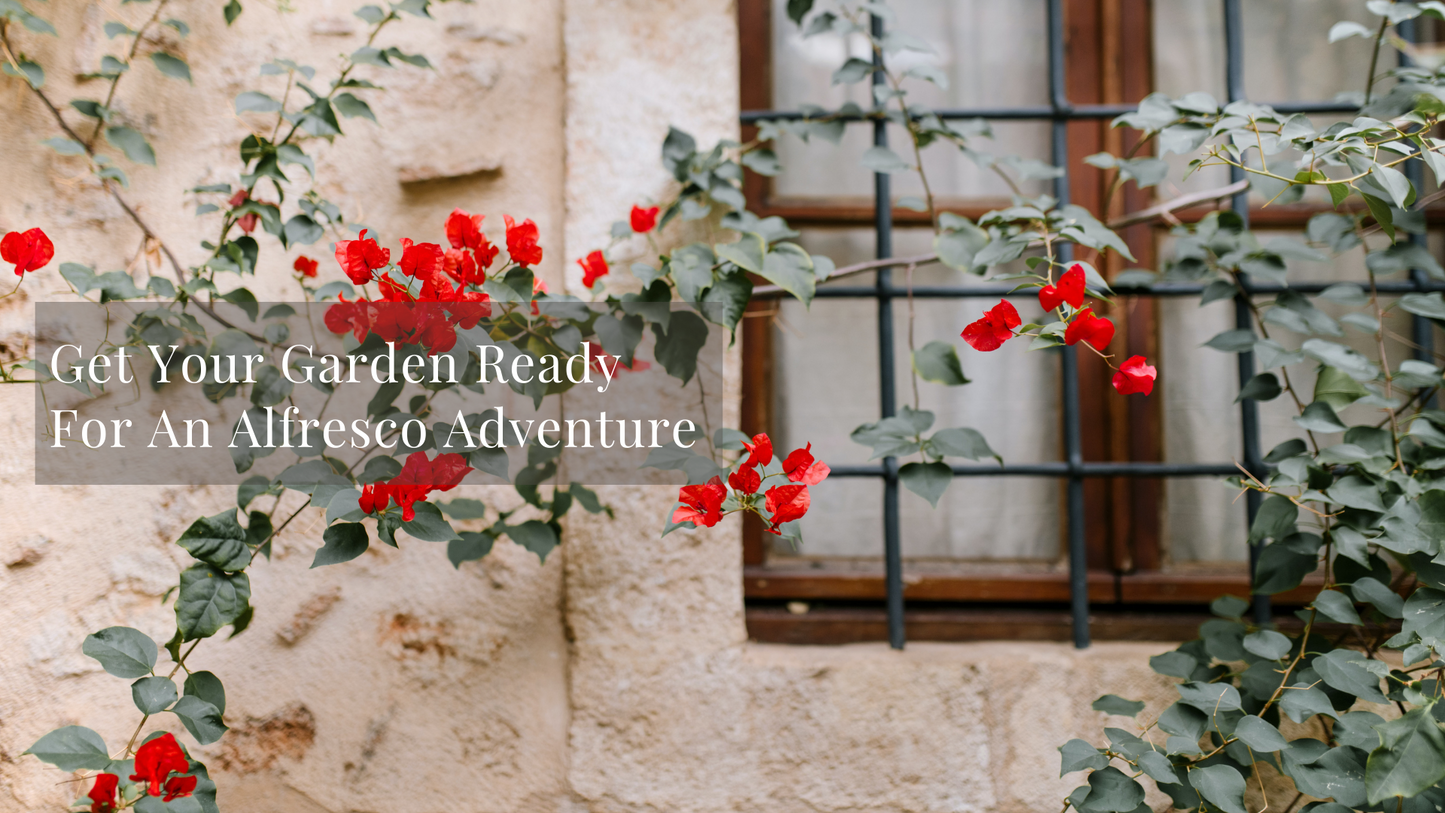 Spring has sprung and with lockdown slowly lifting for many of our Emma Wallace women, we're taking time out to give you some tips on turning your garden into a wanderlust oasis that will set the scene for your most stylish socialising moment yet.
Read on to discover how to create a space for an alfresco adventure…
Create A Living Wall
Planting vertically is the perfect option for those strapped for garden space but also provides the prettiest focal point in a larger outdoor area. It's also the ideal way to cover up an unsightly wall to create a calming and beautiful green setting for your garden soiree. So how do you create one? Well, you can plant pretty much anything vertically, including annuals, perennials, herbs or vegetables. Consider which wall in the garden you want to plant on and pick plants that work well in that environment e.g. does it get much sun, is it open to the elements? Choose plants that have similar needs, so they all thrive side by side with the same watering and light requirements. Be sure to mix and match texture whilst adding in a few bold, colourful blooms to create a piece of art your guests will be wowed by. 
Light Up Your Look
Solar powered lights are the perfect way to add some drama and whimsy to your garden. Opt for LED strips to line steps for an instantly elevated look or string fairy lights along your fence, from trees or in a festoon style for a magical moment that feels as if you're surrounded by the stars. We love a lantern trail for bold impact that will brighten your garden for the better. 
Carpet Isn't Just For Indoors
Outdoor rugs are great for defining a 'living area' in the garden, helping you to zone spaces to create different uses. An outdoor rug is an affordable way to create a focal point. Choose a durable and weatherproof material like polypropylene so it can withstand the rain and be cleaned ongoing. We love a print here at Emma Wallace so would always opt for pattern to add a pop to your green space. Accessorise with lanterns and floor cushions and you're ready for an outdoor get together that's instantly Instagrammable. 
Perfect The Projector
We love drinks and BBQs in the garden, but have you considered creating a cinema night for your friends? Transforming your outdoor space into a cool movie theatre is super easy. You'll need a projector and a speaker for your laptop but all you'll need on top is a flat white sheet which you can screen against. Hang it on a wall or fence, turn on your favourite film, bring out the popcorn and you're good to go! The perfect summer does exist. 
Table Your Décor 
Your garden table is the ultimate place to set the scene for a truly stylish moment. Use beautiful tablecloths to add texture – layering up to create a cool and contemporary look. Mix and match vintage crockery and tableware to blend the old and new and add candle holders with tea lights which you can light as the sun goes down to create a calming and chic moment. 
Now you know how to revamp your outdoor space, why not get your garden ready and extend that invite to your besties! Summer 2021 is a chance for us all to celebrate after a turbulent year.