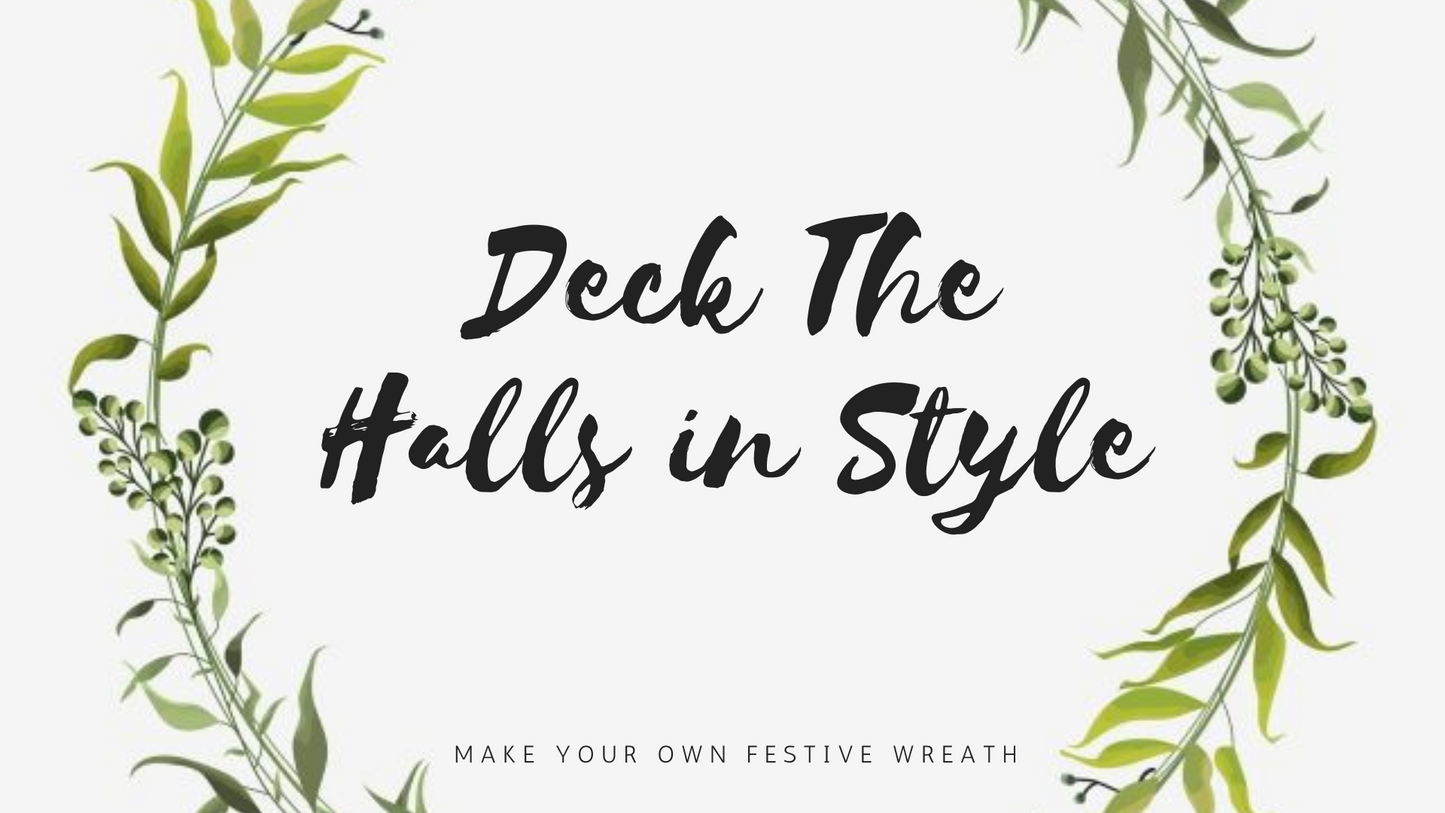 There's snow place like home and this year it's all about getting crafty to help transform your interior into a festive haven. When it comes to spreading some Christmas cheer, nothing makes you feel quite as ready for December 25th like a wreath!
The tradition of having a wreath on the front door allegedly dates back to Roman times, when the symbol was supposed to represent victory. However, others cite that the wreath represents health, good luck and signifies eternal life – with the evergreen foliage representing strength.
Whatever the meaning behind the wreath, we adore this chic interior addition and making your own is the perfect way to while away a Sunday afternoon.
Here's our tips on building your own.
Step 1 - Be Prepared
Before you get your craft on, make sure you have all the tools you need to hand. As a base, you will need one wreath ring, scissors, green twine, florist wire and moss. For the decorations, pick up hardy, textured foliage like spruce, evergreen, oak, eucalyptus and Buxus. For a scent-sational touch, look for dried orange slices, cinnamon sticks, fir cones and berries which bring that festive aroma in spades.
Step 2 
Take your wreath ring and mould in generous handfuls of the moss. Secure tightly with the green twine to create a compact filling and continue until the whole wreath is covered. This will create a sturdy base for you to work on. Add a loop of the green twine on the reverse which you can use to hang the wreath on your front door.
Step 3
Mix up the foliage to create small even bunches. Use the green twine to attach them to the moss base, overlapping as you go so you cover any gaps. Keep going until the wreath is completely covered and try to keep the shape intact.
Step 4
With your base ready, now's the time to show off your creative flair. Group cinnamon sticks together with wire and tie with ribbon for a flourish. Use floristry wire to add them to the wreath. Follow suit and use the wire to secure the orange slices and pinecones. Spread them across the wreath equally to create balance.
Voila! The most perfect piece of Christmas is ready to be hung from your door for all to see.
Now we know the Emma Wallace Woman loves to showcase her own unique style, so for those who want to mix it up entirely, here's a few of our favourite quirky takes on festive wreaths.
Beaming Baubles
Kitsch and cute, we love the retro feel of this bauble wreath. Simply wrap your wreath ring in tinsel and then use a glue gun to attach all the baubles. Mix and match colours to create the perfect piece to compliment your interior. Discover the full tutorial via The Crafted Life:
https://thecraftedlife.com/diy-ornament-wreath/#more-14475
Bouncy Balloons
For those who want to forget tradition, then balloons will make your interior float! Mix and match green, red and pink balloons and use zip ties to attach them to your wreath ring. Discover the full tutorial via Studio DIY: https://studiodiy.com/diy-christmas-balloon-wreath
Beautiful Bows
This wreath instantly makes you want to unwrap it! To create this statement, opt for a straw-based wreath ring and then use a hot glue gun to attach every bow. Mix and match colours, textures and sizes to create a statement piece that reflects your own style. Discover the full tutorial on Design Improvised:
https://designimprovised.com/2012/12/bow-wreath.html
Now you know how to create a cracker of a Christmas centrepiece, it's time to deck the halls in style! Don't forget to share your creations on social and tag us in @emmawallacedesigner.