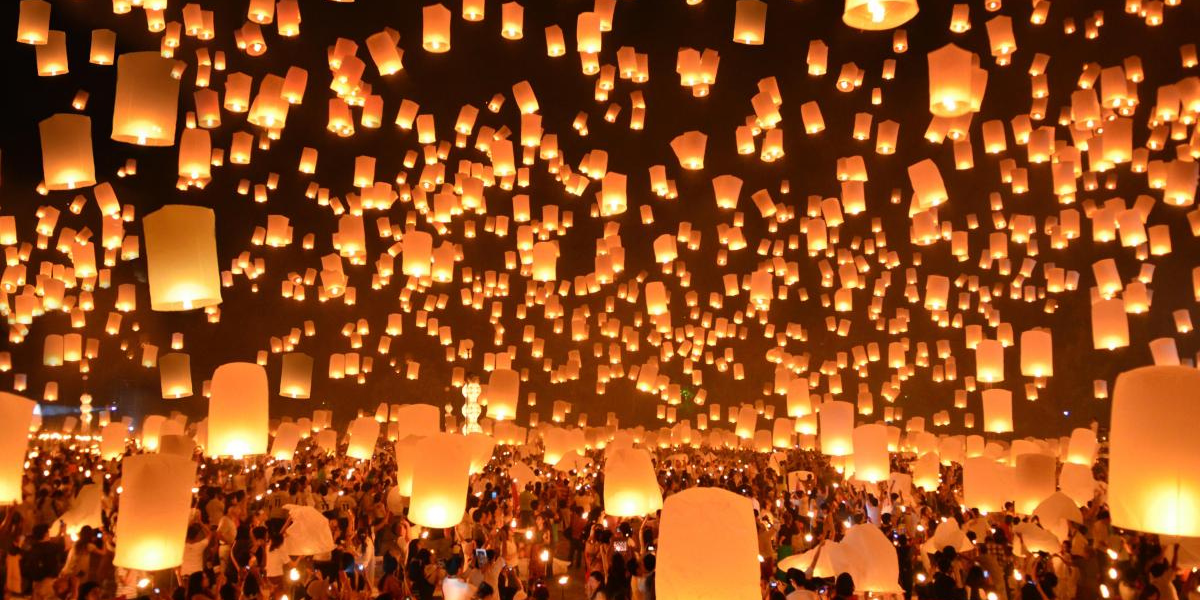 With Diwali kicking off on Sunday, it won't be long before the world over is sparkling as the Festival of Lights gets under way. For those looking to celebrate in style, we're giving you the low down on some of the best locations around the world to steal the lime-light and ring in this dazzling religious event.
Here are our top picks…
Varanasi, India
You can experience Diwali on a grander scale at Varanasi! With a constant stream of fireworks that go on all night long, it's one of the most spectacular settings to enjoy the festival within. Start your day with a bath in the holy Ganges before hitting the bustling bazaars where you can treat yourself to traditional clothes and sweets fit for the occasion. Take a sunset boat ride to check out the glimmering lamps reflected in the river, before checking into one of the many luxury waterside hotels to get a first-class view of the displays. If you can add on a few extra days, it is well worth checking out the Diwali of Gods which is celebrated as a part of the iconic Ganga Mahotsav Festival.
Chaguanas, Trinidad
In Trinidad and Tobago, Diwali is a truly community event, celebrated throughout all the islands. Be sure to check out the Diwali Nagar, or Village of the Festival of Lights, located in Chaguanas where you can enjoy a night brimming with entertainment, including live dance and music performances that will make you feel as though you've been transported into a Bollywood Movie.  Folk theatre performance featuring plays depicting Lord Ram's story and many other scenes from Hindu epics will keep you entertained for hours before fireworks light up the sky to ensure your Diwali ends with a bang, quite literally!
Dubai, UAE
During Diwali, the luxury setting of Dubai really comes alive. Start your evening with a luxe take on an 'all you can eat' buffet at Purani Dilli at the Four Points by Sheraton in Downtown. With dishes curated specially for the festival you can indulge in haldi mirch murgh tikka and veg biryani after you've stopped by the live chaat counter. Finish your meal with a cheeky treat of balu shahi (sort of like a glazed doughnut but with a different texture) and piping hot jalebi from the jalebi counter. For those who want their night to truly shine, head to The Pointe where a huge fireworks display will light up the night sky with an array of stunning colours. There will also be special discounts from selected retailers with up to 25% off food and beverages nearby. Later on, head to the Al Seef area who will be hosting a Diwali market until midnight.
London, UK
As a hub of culture, London is hosting multiple Diwali celebrations to bring the festival to life. Start your night at celebrity hotspot, Gymkhana in Mayfair where you can tuck into delicious dishes of tandoori masala lamb chop and guinea fowl biryani with a veggie pomegranate and mint raita. Feeling satisfied, wrap up warm and pay a visit to West London's Wembley Park who are combining their Diwali celebrations with its Bonfire Night event to deliver one huge light festival. 'Light up the Night' consists of lantern-making workshops and a lantern parade, a fireworks display, and another parade filled with giant illuminated butterflies, alongside a five-metre tall mechanical Fire Bird inspired by the Garuda bird myths found in Hindu, Buddhist and Jain culture. Sights you'll instantly need to capture for the Gram!
Melbourne, Australia
For those planning to go 'Down Under' this Diwali, be sure to visit Dandenong Market where you will encounter an experience like no other. For foodies there will be authentic curry cuisines on offer to try. Meanwhile, for those eager to immerse themselves in style and culture, check out the Bollywood workshops where you can learn to dance and dress up in a traditional sari. Want a lasting reminder of the celebrations that will keep your light shining? Check out the henna artist on site who can decorate your hands in the traditional art of mehendi. for a beautiful takeaway.
With the iconic festival of lights shining bright around the globe, we can't wait to see where your Diwali adventure takes you.