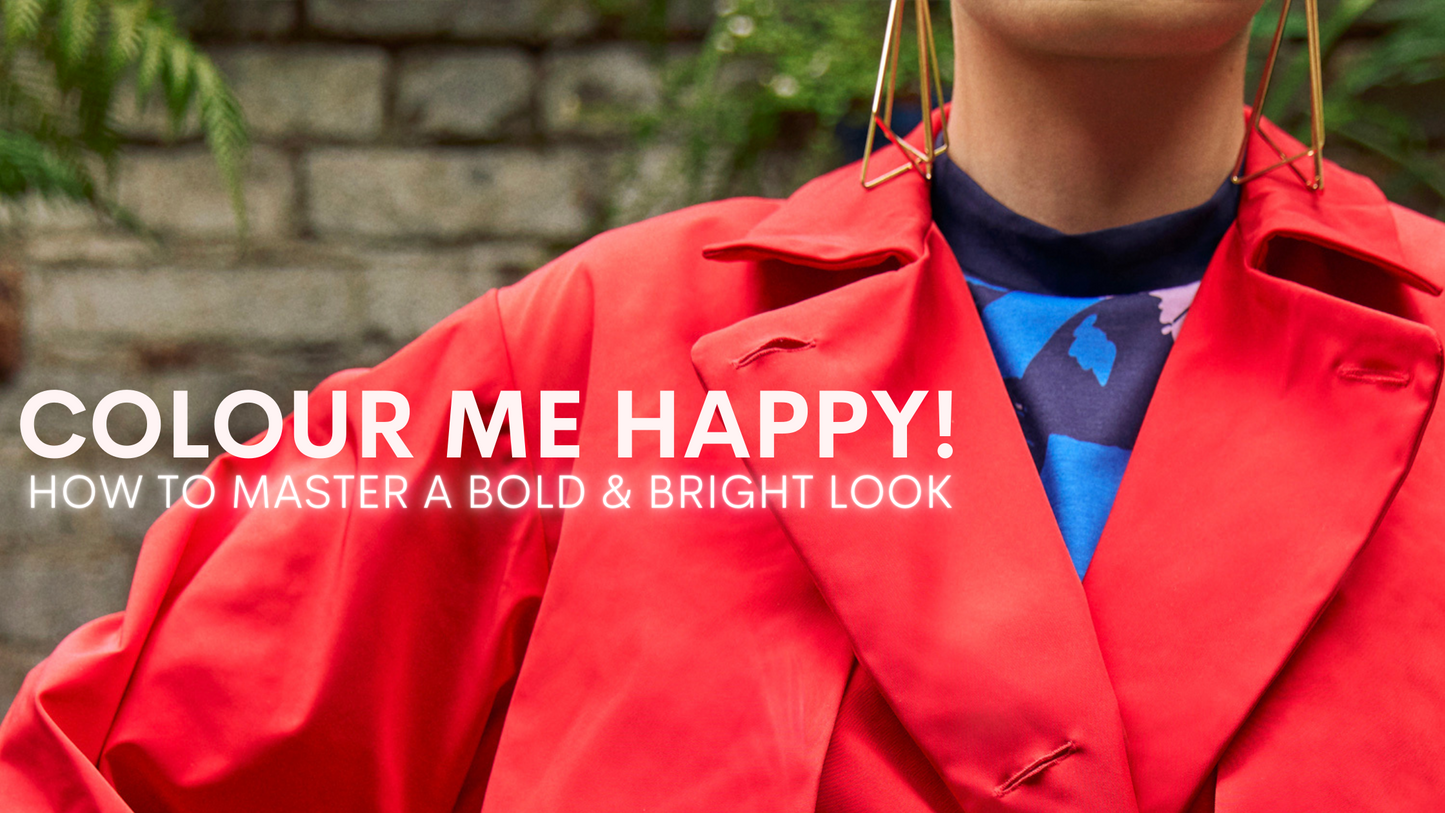 After years of uncertainty, the Spring/Summer 22 runways were awash with smile-inducing shades ready to resurrect your wardrobe and fill you with optimism. As we distance ourselves from head-to-toe black and neutrals, we're ready to shed lockdown living and hit up mood-boosting outfits that will keep our mental wellbeing in check. 
Dubbed 'Dopamine Dressing' the penchant for pops of colour were seen all over the catwalks. Valentino's show brought in bold yellow and fuchsia dresses, Chanel opted for yellow and pink tweed co-ord suits, while Stella McCartney showcased electric green and royal blue. 
Even Pinterest has predicted that ​"Dopamine Dressing" will be 2022's biggest fashion trend, with search terms like ​"vibrant outfits" gaining traction! Now, we love to make every woman feel uplifted and ready to take on any adventure. With that in mind, here's our top tips for mastering the bold and bright look.
Columns Of Colour
There's no better way to add some serious smile-inducing clout to your outfit than going for a full column of colour. A trend seen on so many of the catwalks this season, wearing one shade from head to toe is a sure-fire way to get that grin going. Nothing makes our mood lift like our Jade Jumpsuit. With its bold red hue, it's an instant injection of playfulness. A matching fabric tie belt and peek-a-boo back neckline adds intrigue and texture whilst keeping the colour consistent. Go all out and pair with some sky-high red barely there heels and a red lip for a matching vibe that has some serious impact or mix in pink chunky sliders and a cute pastel bucket hat to clash in all the right ways. 
Bright Layers
Nothing makes a statement quite like a bold and bright coat. Our Laurie Mac is the perfect injection of colour to turn any outfit into a dopamine inducing look. With its exaggerated bell sleeves, it's an eye-catching silhouette, but it's the pop of red that will transform any outfit. Wear over the Yen Top with its acid yellow pops and red Kizzy Trousers to complete the look. We'd go for a pair of cobalt blue heeled pumps to ensure the look really shines and keep you grinning from head to toe. 
Colourful Co-Ord
Here at Emma Wallace, we love a dynamic print that packs a punch and, mastering the optimistic dressing trend is easy with our butterfly inspired designs which can be layered to create the perfect co-ord. We love the Dawn Jumpsuit worn with our Teri Jacket – the ultimate duo to make you feel as if you're surrounded by a stunning swarm of winged wonders.  Wear with bright pink creeper shoes and a pair of playful pink sunglasses as a finishing touch. 
Mood-Boosting Details 
If you can't opt for a head to toe look then adding a pop of colour with accessories is another way to boost your mood. Try our Papilio Scarf, Hairband or Scrunchie to bring a beautifully bold hue to your outfit. Even if you're wearing a plain white shirt for work, adding a playful push of colour through a chic finishing touch like this will ensure you're smiling all day. Pair with a pink lip and you're ready to go! 
Cosy Colours 
Whilst we love a colourful outfit for a night out, adding some colour to your lounge look is just as important. Brightening up your cosy fit will instantly help you feel ready to take on 2022 in style. Our Merino Wool Comma Jumper is the perfect pop of vivid pink to bring that dopamine hit. Wear with our comfy yet chic Kupu Pant in rose to finish the look. Ideal for laying on the sofa or worn with a pair of colourful sneakers to run those weekend errands. 
Starting the new year off feeling happy, revitalised and ready for anything is just a case of having the right outfit.